Barmer is one of the managerial districts of Rajasthan located in the western part of the state developing a part of the Thar Desert. Situated in south-west Rajasthan, Barmer shares borders with the Rann of Kutch in Gujarat and Sindh in Pakistan.
Like all other regions in the desert area, Barmer is known for its folk music and dance. The Bhopas (priest singers) are originate in Barmer, who creates music in honour of the divinities of the region and its war heroes.
Barmer is known for its Jain temples and a small citadel controls the town. Known also for its handicrafts, Barmer is showered with villages, specializing in different crafts. Applique styles of trees, leaves, flowers, animals in hues of pink, red, green, black seek their motivation in nature.
Dhanoo, a small town 40 km from Chooten, is well known for such craft. Shawls woven from local wool, a part of the traditional apparel, are soon becoming a part of contemporary fashion in the metros.
SHOPPING
A veritable shopper's paradise, Barmer is treasure trove of vibrantly coloured embroidery with excellent mirror work. Also famous for beautifully embroidered fabrics and pouches often patterned with tiny mirrors. Traditional rugs, blankets, shawls, carpets "Pattius" Dari in typical Barmer colours and weaves are speciallity of the district. The shopping spots include the tiny shops along narrow lanes of the colorful and lively sadar bazar of Barmer town.
ART & CRAFT OF BARMER
Barmer in Rajasthan is well known for its handicrafts. All over Rajasthan and around the country, Barmer's exceptional woodcarvings, carpets, hand printed fabrics, embroidered textiles, and undeniably its simple and friendly people transform the Thar into what's popularly known as the most colourful desert in the world. It is also recognized for its hand painted fabrics locally called ajrakh, block printing, embroidered textiles, carpets and and of late for its intricately carved wooden furniture.
WOOD CARVING TRADITIONS OF BARMER

The wood carving traditions of Barmer in Rajisthan share their similarities with those of Jaisalmer in Rajasthan and Saurashtra in Gujarat. This carpentry and carving community locally known as Mistris converted simple motifs of camels, elephants, flowers, parrots, horses and other geometrical patterns into a vivid and imaginative mix. These skills, though earlier used extensively in architecture for carved pillars, jharokhas (bay windows with a little balcony) and archways have now shifted focus to intricately carved ethnic and European style furniture. This switchover, caused due to the demands of the market and the need for survival, has now flourished into another art form.
HAND CLOTH PAINTING OF BARMER
Barmer is also famous for its hand painted cloth. It specializes in the exquisitely rich red and blue ajrakh cloth (ajrakh comes from the Arabic word 'azrak' for the colour blue.) This cloth has a long and complex printing process of vigorous beating, successive dipping and polishing sessions. The finest ajrakh is a variety which is printed on both sides. It is worn on special occasions by both Muslim and Hindu leather workers of the Meghwal caste. A garment most women wear in Barmer and all over Rajasthan is the odhani (long scarf), which is locally also called the chundri which literally means a fabric of dotted pattern. Another speciality of Barmer is its exquisitely crafted carpets.
TOURIST ATTRACTIONS IN BARMER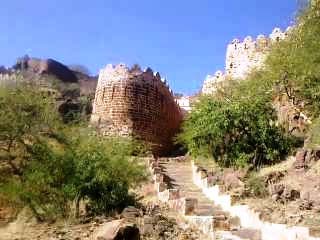 Famous Fort Siwana is located on a hilltop. The fort was built by a famous Rajput ruler Raja Bhojs son Veernarayan, who at one step organized much of Barmer and had close ties with the Solanki family of Gujarat.
The fort is not in the best of condition now however it still houses a beautiful pond. The fort fell to forces of Alauddin Khilji in 1308. When Alauddin Khilji, the Sultan of Delhi, overwhelmed the fort the people controlled by Sutal Deo mounted a heroic defence.
To honour this ancient event an annual fair called the Kalyan Singh Ka Mela is quiet held within the areas of the fort in the month of Shravan (July-Aug). Later in the period (1318-20) Luntiga Chauhan captured the fort of Siwana and defeated its Muslim garrison, no Sultan of Delhi tried to recover this fort.
Siwana is also famous for mines producing fine quality of granite.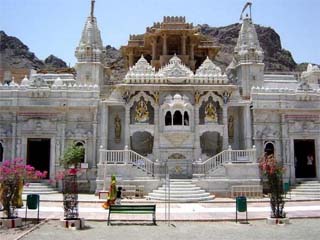 Jain Temple in Barmer is established from an engraving stamped on a stone pillar situated right nearby to the temple. On the hilltop adjoining is an old fort which covers an area of about 15 sq km.
The fort is bounded by a series of hills, contiguous to which lies a small lake. Between the mountain peaks is a small island known as Juna Barmer which houses a small sound. At one time Juna was pretty compactly populated, but most of its residents migrated from the area. It is believed that the emigres from Juna established the town of Barmer.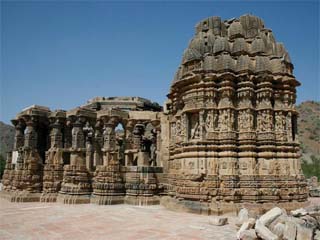 The old Ranchhriji temple committed to Lord Vishnu is the major attraction of this place. The temple is bounded by a peeling wall and has a statue of a Garuda (eagle) protecting the complex. Brahma, Bhairav and Mahadev temples also adorn the town.
For the antiquity moment, Khed was dominated by Rao Siha, the founder of the Rathore set along with his son Asthanji, from the influences of the Guhil Rajputs.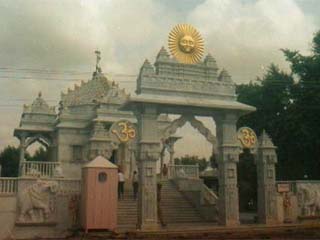 About 12 km north of Shiv is a small community by the name of Devka, also located on the Jaisalmer-Barmer road. Well-known in the 12th or the 13th century the major tourist spot in this little village is the Vishnu Temple, famous for its temple style.
Nearby lie two more temples in a very decrepit state. However, still remaining in these temples is attractively carved images of Lord Ganesh (the elephant god and Shivas son) on stone.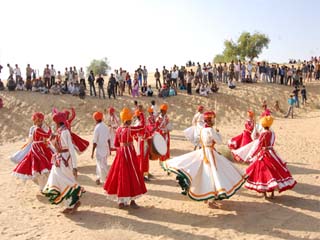 Mahabar is the nearest sand dunes three km from hotel and 5 Kms from Barmer. We can see the desert over here. Also Thar Mahotsav (fair) is held over here every year in march. Good sand dunes are there in Mahabar. You can also enjoy the camel ridding and great adventures of deserts.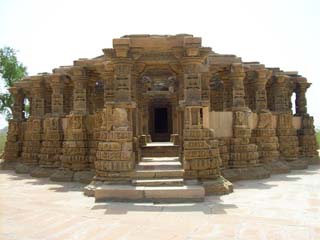 The Kiradu temples are situated at about 35 km from Barmer. There are five temples in all and most amazing of them is Someshvara Temple .These temples feature exciting sculpture and a Solanki style of architecture.
DISTANCE FROM BARMER
Jalore – 110
Jaisalmer – 155
Sirohi – 196
Jodhpur – 198
Hanumangarh – 584
Udaipur – 302
Nagaur – 321
Bikaner – 359
Ajmer – 379
Chittorgarh – 443
Sikar – 484
Kota – 515
Jaipur – 518
Pali – 223
Ganganagar – 595
Alwar – 630
Bharatpur – 712
Dholpur – 743